First Person | Men's Basketball | Women's Basketball | Swimming & Diving | Women's Tennis | Brian Estridge

Cheer Leader
Temporarily sidelined, transfer Hanna Biernacka has the Lady Frogs pumped.
By Rick Waters '95
Hanna Biernacka probably leads the Lady Frogs in high fives. During a two-on-two drill against the all-male Frog Squad, Biernacka pats teammate Helen Roden on the bottom. The next play, she encourages Jenna Lohse to stick with it.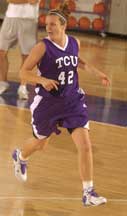 Twenty minutes later in a scrimmage, she's chest-bumping one of the guys.
"She's probably the leader of this team, if not, she's the greatest cheerleader," says Lady Frogs coach Jeff Mittie. "And, as a transfer player, she's not even eligible until our 10th game."
How can this be? How can a senior from Sweden who came to TCU from LSU just this year be the leader of a team for which she's never played?
"Maturity," says Mittie. "That separates her from other players. She's come in with passion and intensity that has earned her the trust of her teammates on and off the court."
Assistant coach Larry Tidwell adds: "She's earned credibility because she's a hard worker. A leader can be demanding of teammates when he or she is willing to outwork them."
Biernacka hasn't sat idle since joining the program in January. During drills in practice, she is among the first to jump in to participate and yelling encouragement to others when she's not.
"Her personality and work ethic makes her that way. She's can't not be involved. She's our accountability person," says junior Adrianne Ross, the team's leading scorer.
"That's me," Biernacka says. "I just love basketball and I love this team. I love our style of play. We're up-tempo and free-flowing, It just gets me excited even when I can't play.
Biernacka, a highly touted national team player in Sweden when she came to the United States and powerhouse LSU, made two trips to the Final Four with the Tigers. But she felt she could contribute more elsewhere.
The Frogs are the beneficiaries. She may not be the team's best shooter or defender or passer, but she's impossible to miss on the court.
"Probably her greatest strength is that she is as physical 30 feet from the basket as from 5 feet," Tidwell says.
Mittie admits it is difficult in practice to include a player who is ineligible and still give opportunities to those who are, but he's not worried about Biernacka earning minutes.
"Players decide playing time, not coaches," he said. "She comes to play every day whether she can play or not. She's consistent that way."
That is something worth celebrating.
Comment at tcumagazine@tcu.edu.