First Person | Men's Basketball | Women's Basketball | Swimming & Diving | Women's Tennis | Brian Estridge

Go West, young Frogs
Training in West Texas gives Frogs mental vacation, and maybe an edge.
By Mark Wright
Keleigh Wentworth has swum alongside some of the country's top swimmers, but swimming practice laps with fishes and turtles mingling about, well, that made her a tad apprehensive.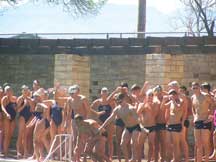 "A little scary at first," Wentworth, a senior from Midland, said of the TCU swimming and diving team's preseason training session in the 77,000-square-foot spring-fed pool at Balmorhea State Park in West Texas. "The fish swam right there with us, and it definitely was something out of the ordinary for a swim team to do, so that made it even more fun."
The out-of-the-ordinary training session was the brainchild of swimming and diving coach Richard Sybesma, who grew up in the West Texas town of Andrews. As a boy, he used to take weekend hiking trips to the Davis Mountains or swim in the cool waters of the partly concrete-lined, lake-like pool at Balmorhea.
He thought his athletes might gain a mental edge from training in those environs.
"It became a unique training experience. Would we have gotten better training here in our own pool? Yes," Sybesma said. "I think so physically. I don't think it would've been better mentally. It's the same reason the Cowboys train in [California] or baseball teams hold spring training in Florida."
Over fall break in early October, Sybesma's team headed west for a grueling day in which it competed in two meets at two separate venues — a morning meet against McMurry in Abilene and an evening meet against UT-Permian Basin at the city pool in Midland.
Early the next morning, the team took a 90-minute mountain hike, though the hikers were forced to change trails halfway through after park rangers informed them they were scaling a trail that was closed because of hazardous conditions.
After that came the trip's highlight: the swim at Balmorhea, a pool two-and-a-half times longer than an Olympic-sized pool.
"It was a unique training opportunity to do one-length sprints," Sybesma said.
After the swim, the team made the long trip back home, making for an exhausting two-day trip. But the tiring trek was worth it, Wentworth said.
"Tiring, but definitely worth it, because we really got to bond," said Wentworth, who had never been to Balmorhea despite growing up nearby. "Also, I think the freshmen felt more like part of the team after the trip, as well."

Comment at tcumagazine@tcu.edu.