Modern Dance | Nutritional Sciences | Environmental Science | F.R.O.G.S. for our future |
Nursing | International Studies | TCU Press | English | Business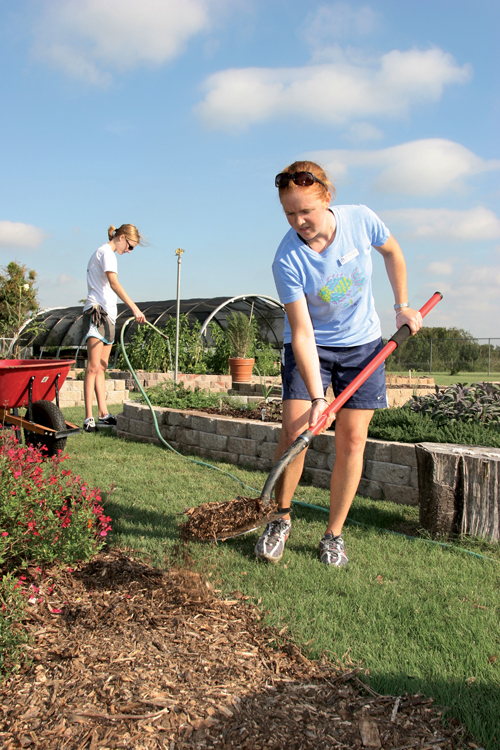 From seed to table
Students are getting the real dirt about healthy eating through the Community Gardening for Active Citizenship project.
By Rachel Stowe Master '91
Nutritional Sciences junior Kristen Aegerter has been up to her elbows in dirt and compost since she was accepted into the nutritional sciences coordinated program at TCU. It wasn't what she expected, but the dirty work of good nutrition has been rewarding.
"I was kind of surprised because I had no idea how to garden, and I wasn't sure how that connected to our internship program," Aegerter said about her work through TCU with the Community Gardening service-learning project. "But I've really been enjoying it."
The garden initiative is a community-based participatory research collaboration between Pamela Frable, associate professor in the Harris College of Nursing & Health Sciences, and Lyn Dart, assistant professor in the Department of Nutritional Sciences. The TCU Center for Civic Literacy and the Center for Community Involvement and Service-Learning have provided funding. Community partners in the project are the Tarrant County Master Gardeners and the Resource Connection of Tarrant County, a public-private campus in southeastern Fort Worth that brings together almost 40 different community agencies.
Last spring, about 22 nursing and nutrition students began developing the garden with the master gardeners on 2 acres at Resource Connection. Plants range from roses and herbs to fruits and vegetables. Last fall about 25 students went to the garden two days a week for four to eight hours of training with master gardeners. Being groomed as junior master gardeners, the students will teach kids at Fort Worth's Nash Elementary School how to start a garden.
Learning is very hands on. One recent week Aegerter pulled up tomato plants, put them in the compost pile, cultivated soil and helped plant a fall crop of corn, radishes, cabbage and tomatoes.
But the best part: She gets to take home part of the bounty. "Every time I go, I take home fresh green peppers or okra, tomatoes, jalape–os, banana peppers."
The former nongardener is also taking away skills for life.
"It's really expanded my knowledge about where my food comes from, and I feel like I've learned enough that I'll be able to have homegrown vegetables for my family when I have my own house," she said. "And I'll be able to pass that on to other people as well."
It's also good for the community. Participants come from the federal special supplemented nutrition program for Women, Infants, and Children (WIC), Senior Citizens Services, New Lives (a Fort Worth ISD program for teen parents) and the Sheriff's Department.
"The whole idea is that by establishing the garden, we are promoting not only the availability of being able to grow your own fruits and vegetables, herbs and plants," Dart said, "but also we're promoting working together and gardening as a community-building strategy for improving healthy lifestyles, good nutrition and physical activity."
Although the grant period ends in May, TCU nursing and nutrition students will continue working in the garden and Dart hopes to open up the service-learning opportunity to all TCU students.
Comment about this story at tcumagazine@tcu.edu