Modern Dance | Nutritional Sciences | Environmental Science | F.R.O.G.S. for our future |
Nursing | International Studies | TCU Press | English | Business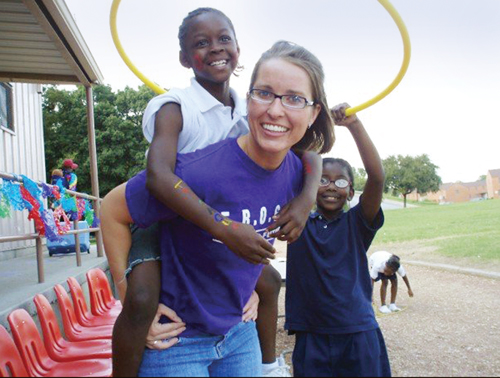 F.R.O.G.S. for our future
Every young person needs a guide and a mentor so some TCU students are filling the role.
By Nancy Allison
It was the example of an inner-city teacher portrayed in a popular movie that inspired Jason Jacobus '07 to found F.R.O.G.S. for our Future (Frogs Respect Our Growing Society) during his senior year.
"I wanted to create a program that would give the TCU community an opportunity to work with and invest in the youth of our area."
His first step was to enlist some support, and when psychology senior Missy Haines heard his idea, she joined on the spot. Within a week they'd chosen a directorial board, planned projects, and become an official TCU student organization.
The next step was to raise funds and interest other students in joining. According to Jacobus, that wasn't difficult. Many students want to give back to the university that has given them so much. But F.R.O.G.S. goes wider and deeper. Giving your attention and presence to young people affects the future like nothing else can. "It leaves a lasting impact, a legacy that will travel states, countries and generations."
The first F.R.O.G.S. project was to clean up and repaint the basketball court at a local Boys & Girls Club. The kids there assumed the students were accumulating hours and would only come once. "They're not used to people being consistent with them," said Haines, now president of the program. "But our goal is to establish a relationship and keep coming back."
And they have, with projects and get-togethers at several branches of Boys and Girls Clubs. Other initiatives include advising high school students on college admissions and college life with the YMCA CAPS program and motivating kids at local elementary schools prior to TAKS testing. This year, F.R.O.G.S. began a weekly tutoring program at Boys & Girls Clubs in the area.
Marketing senior Brian (Bo) O'Leary shares the job of networking for F.R.O.G.S. with marketing/e-business junior Amanda McCormick. The goal is to spread the F.R.O.G.S. idea to universities around the country and encourage them to replicate the program. O'Leary stresses that mentoring isn't dreary social work. "It's fun to be around kids."
Eric Boudreau '07, finds that the beauty of F.R.O.G.S. lies in "creating a network of Horned Frogs with a desire to serve the community, and in showing the communities of Fort Worth what TCU students are truly about."
Comment about this story at tcumagazine@tcu.edu