Modern Dance | Nutritional Sciences | Environmental Science | F.R.O.G.S. for our future |
Nursing | International Studies | TCU Press | English | Business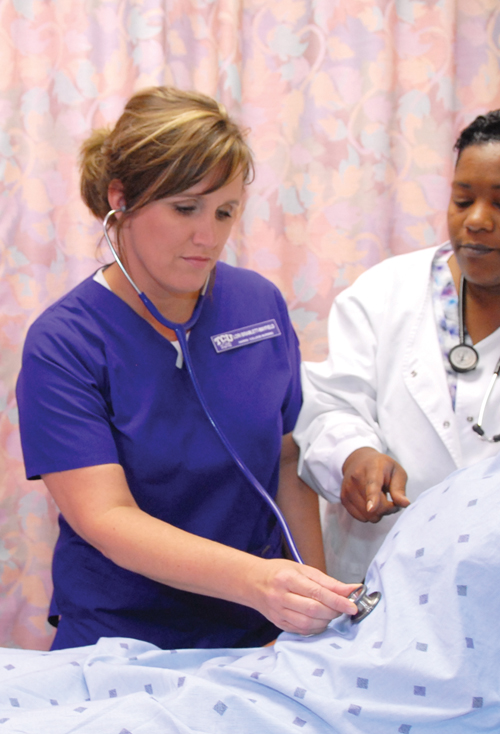 Caring for cancer
New center focuses on oncology nursing.
By Shannon Allen
Oncology patients have specific nursing needs, and now TCU has a center for research and training in the speciality, thanks to a $1 million grant from the University of Texas Southwestern Moncrief Cancer Foundation.
The goal of the new Center for Oncology Education and Research (COER) is to change the view of oncology nursing through learning opportunities that focus on cancer care and end-of-life issues.
The center will establish TCU as a premiere site for collaborative, interdisciplinary research and education in adult and pediatric oncology care. According to Suzy Lockwood '83, assistant professor of nursing, it is the first such center in the country.
Lockwood, who served as an oncology nurse for 25 years before coming to TCU in 1997, has always wanted to teach a course in her specialty. She even developed one during her first year at TCU, though a lack of resources forced her to set the course aside.
The undergraduate course is merely the beginning. The overarching goal is to promote oncology nursing as a career, as well as bolster cancer care knowledge and skills.
"Oncology nursing is multifaceted," Lockwood said. "It is about the cancer patient and his or her family, the patient's physical treatment and the psychological care of the patient and family members."
Which is why the center was intentionally named an education and research center. Lockwood already sees links with social work, nutrition, kinesiology, speech-language pathology and the Center for Healthy Aging.
Nursing students have already been placed in outpatient settings through an oncology internship program that began last summer and will further benefit from clinical experiences at UT Southwestern and its affiliates through the undergraduate course. A graduate course and post-master's certificate program will launch next fall.
Research and publication opportunities also are expected to grow as faculty and students work together on research projects with health care organizations that have ties to TCU and UT Southwestern. In addition, grant applications for faculty involved in ongoing oncology-related research are now being accepted.
The grant money will fund all coursework, research initiatives and more for five years.
"Caring for oncology patients and their families using generally accepted practices and interventions is no longer sufficient," Lockwood said. "As health care practitioners, we must learn to treat the disease as a chronic or long-term condition throughout treatments grounded in evidence-based research. Our center will foster this ground-breaking approach."
Read more at www.harriscollege.tcu.edu/203.htm.
Comment about this story at tcumagazine@tcu.edu