First Person | Men's Basketball | Women's Basketball | Swimming & Diving | Women's Tennis | Brian Estridge

"I'm bound and determined"
The "hot seat?" Men's basketball coach Neil Dougherty says he's always on it – not just this year – or any other. But don't write off this year's Frogs. Coach D says they'll surprise. Maybe even TCU fans.

By Rick Waters '95
Coming off a very disappointing 6-25 record last year, what are you
optimistic about this season?Just what every new season brings. Obviously after last season, we are excited about getting back out there and proving we can play. Any new season brings some optimism, because there is a chance to play better basketball and have fun again. Each season that I have been in college basketball has brought the same level of excitement regardless of the number of victories the year before. This year, I am just bound and determined to show that we can win basketball games at a higher rate here at TCU.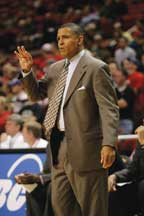 So it doesn't matter if it was a Final Four season or 6-25?I think that's one of the great unique things about college athletics. Even if everyone returned, which doesn't happen much because you always have new faces, but even if you had the exact same team, that team would have to write a new chapter in the story of that program. One of the great things about my job is that it's never the same. It's never boring. There is always a feeling of new excitement. I want my team to feel like 8-year-olds on Christmas morning. What's going to be under our tree for us this year? There's an eagerness to get down there and get to it. That's how I want them to feel. Because that's how I feel every year.

What is under your tree this year?A couple of things: I think we're quietly on the verge of becoming a good basketball team. I hope that we don't have the injuries we had last year. Right now, we still have some, but I think those are the normal level of bumps and bruises a team gets this time of year. I feel like if we can get a young group off to a confident start, then this team has great potential for momentum growing as the season goes on.

What is it about this team that makes you think you can pull that off this year?Partially because of the season we had last year. Our kids are bound and determined to not go through something like that ever again. We also have added some much need athleticism. Having Kevin Langford inside gives us a scoring option we haven't had the luxury to enjoy before. So now we have a 6-9 kid who can score a lot of different ways. He's a pretty good ball handler and can pass pretty well. He's a thinker. He can move without the basketball. And he has size. It's like you have another versatile skill player on the floor. That helps us a great deal. Femi is healthy, at least his back is. He's got a deep knee bruise. But last year he struggled badly with a sore back, and hopefully he won't be experiencing that this year. Alvardo Parker is a junior college transfer, 6-8, very long and athletic, and he's adding another dimension for us. I am hopeful that we can get Luke Tauscher back on the floor by January. He's been a pleasant surprise and may be able to help us, even as a true freshman. He's every bit of 6-10 and has added about 25 pounds of muscle. So we now have the ability to a lot bigger up front. The other part is that we've matured a lot in the backcourt. Brent Hackett is healthy. Each year he's been here, he's had a shoulder surgery to go through. Two years ago it was his left shoulder. Last year it was his right shoulder. He's got some scar tissue issues to work through, but I don't expect that shoulder to come out 13 times this year like it did a year ago. We're moving him from the point to shooting guard where he can be a lot more aggressive and just score with the basketball. Neiman Owens has gotten stronger again and defensively he adds a lot to what we do. Offensively, he is more confident. Blake Adams gives us the versatility to play him as a big guard or a small forward. His confidence is much higher with shooting the ball. All the issues we had last year with losing 25 games by an average of six points a game, we just didn't score with the basketball as much as we needed to. I think we'll do much better in that department this year. My son Neil is healthy for the first time in a while too. It's amazing what kids look like when they're healthy.

A lot of people look at the record you had and say, "They were terrible." Do you think people accounted for all the injuries? I don't know that they do. There are certain injuries we didn't talk about. Everybody knew about Chudi Chinweze's injury. I don't think people knew that we had five surgeries last year during the season. In our first 45 practices last year, we had everyone there only 11 times. During the year, that limited what we could do in practice. For some of the guys, they had to sit out during practices to let them recover for the next game. So we lost continuity, execution, a lot of things when you don't have good practices. A lot of things can contribute to losing, and no, I don't think people think about those things, but that's not their job to understand that. If the administration understands, then that's all I can be concerned with.

It's not the fans' business to know? Avid fans who come to practice know. I have open practices. They see players sitting out and then play in the games. And then they see them not practice again. But that's just a handful. The kids and I don't want that to be public knowledge or used as an excuse of any sort. This year, we're more prepared for it, even though we've had the same type of hits we had last year. But we are reshuffling and figuring out a way to deal with it.

Do you feel you are on the "hot seat?"I'm sure there are people who view it that way. No one puts more pressure on me than me. No one knows how badly I want to build a team and win at TCU. The history of TCU basketball says it can't be done. And I am dying to prove that it can, every year. So I am going to be pushing harder in front of that curve anyway. The other part is, as a coach, every season the seat gets hot, even when you're winning because you just want more. That heat that you're putting on yourself every season is hot. I don't think it's any different season to season. I'm going to be the same coach this year as I have been every other year. That's just my personality and what I believe in.

This is your fifth season. Are you happy with the status of the program at this point?No. If you want to take the normal progression route, last year went in the wrong direction. We went nine wins, 12 wins, 22 wins, then six last year. There are too many things I want our program to consistent display that we're not doing and not all of them are on game night.

What kind of things are you talking about?Well, it's taken a lot longer in terms of recruiting to get the kind of players and student-athletes that I want. It's just a longer process than what I thought it could be. When you take over a job, the first year and half or so, you find out more about the job than you knew during the interviewing process. That's what I have experienced here. We've had a much steeper learning curve in a lot of areas to get the program to the point that I want to do it. Eric Hyman witnessed that along with me, which is why he quickly rolled my contract. At that point, you say, "Hmm. It's a steeper curve than what I thought. I'm going to have to adjust the timing of getting things to a place I want them." Now, we're seeing a much better response recruiting wise. In the public's mind, they think, "Hey it's time to win some games." You never know. But if you stick with it and if people can be patient, we're now attracting players that I had hoped we would have gotten a couple of years ago in recruiting. We just had bigger walls to climb that we knew coming in. So I'm not happy with recruiting but we're getting better at it. Another area was graduation and getting kids to understand the rigors of a college basketball season, which is difficult, and balance academics with it. My first couple of years here, we didn't have an academic situation that I was happy with in terms of our tutorial help. It was kind of a hodge-podge. Now we have someone in Judy Golden, who relates with our kids and really seems to know how to push the buttons and get them to understand and do things. When I look at these pictures of our seniors over the years. In our first year, Rebel Paulk and Jamal Brown have already graduated and Bingo, who is playing overseas, said he'll be back to finish this next year. The next year, the only one who hasn't graduated is Corey Santee, and he's just six hours away. He's going to play here this year with the Fort Worth Flyers, so he will try and finish up. That will be five for five. Both Nucleus Smith and Ron Hobbs have graduated. Hobbs is working at Bell Helicopter. Nucleus is teaching up in Detroit. Last year's group, David Markley and Nile Murry graduated. Judson Stubbs will graduate in December and Chudi should graduate in the spring. Then that senior class is done. This year, Femi graduates at Christmas. Art Pierce will graduate at Christmas. Neil and Blake Adams will graduate in the spring. They could have graduated at Christmas but they chose to have a cushy senior year. The numbers are starting to show where we want to represent ourselves.

Would you have not taken this job had you known how steep the curve was?No, no. I think TCU is the type of school that I like. This campus is great. And Fort Worth is one of the best places I have ever lived. I tell people that all the time. TCU is a fit for me and what I believe in. I like the small, friendly feel. This could have been University of Texas or Montana or anywhere, what happens in most places is that you don't learn the whole job through the interview process. For example, what was strange for me is that I had been recruiting in Texas before and you call up certain schools and they know you're from Kansas and you get a certain response. When I turned shirts and talked to the same people, the response was, "Well, TCU is here. I haven't see you guys in a while." I was just there two months ago. Those are the kind of situations that tell you that you're going to issues to deal with and smooth over on the recruiting front. This was a bigger hill to climb, but now I am more determined than ever to climb it.

Home game attendance has been a frustration for you. It is a chicken and egg kind of thing. We could have a very solid home court advantage. I mean that place (Daniel-Meyer Colesium) is a death trap. It really is. It's a great place to play college basketball when you have people in there. Our team, when we play home games, we're playing on a neutral floor. I know it's negative to say, and I hate saying it. But our team, with the way that we play, we would benefit from a home crowd, a true home court advantage. We play against it on the road. We just haven't experienced it at home. What I would like everyone to understand is what that means. If you play 17 home games, and 10 of them are tight, a great home court advantage gets you 60 to 70 percent of those games if everything is even. That's college basketball. You look across the country and you see that almost everywhere. We just haven't had that luxury. We just have to continue to work at it.

Has the fact that you grew up in a military family toughened you to this kind of challenge? There's a lot of that in there. That's the way I have been raised. You don't let obstacles stop you. You just figure out a way to get it done. Some of it is my own personality. I love to compete. No matter what it is, I like to get after something every chance I get. The more that I hear the path of the TCU basketball program is a dead end, the more I become hellbent to get it done. And it's gonna get done. Every day I wake up and I am thinking of some way to make things better for our program and the kids in it. And if in the process I get to stick it to those who doubt, then that would make it that much sweeter. That's not what drives me, but I'd be lying if I said that that wasn't a part of it.

Does the Mountain West Conference have a weaker perception nationally than what it deserves? There is no question. When we were moving from Conference USA to the Mountain West, I was on record as saying that the Mountain West didn't have the superstar programs at the top like Louisville, Cincinnati and Marquette, with the million dollar coaches and Final Four tradition. But the Mountain West was much tougher to deal with top to bottom than C-USA. There was no big gap from first to worst the way there was in C-USA. As many games as we lost last year, we were never out of the game most nights. The Mountain West has had worst to first finishes happen more than one time in its 8-year history. Every team has been in the finals of the tournament. So there are 9 teams jammed in real tight with each other versus a 12-team league with Rick Pitino and Louisville on one end and Tulane, who was thinking of dropping their program a few years ago, on the other. You're not comparing apples to apples when you compare them. So in the MWC, you have good coaches and you better be ready every time because there are no weaklings in the league, no nights off. I think that makes for a good league. We just need to get adjusted to the travel, the altitude, the height. We're closer to doing that this year.

If Kevin Langford is 6-9 as you say, you have three players listed at 6-9 or taller. How do you deal with what seems like a height disadvantage? Our style of play is an equalizer. What we don't get in rebounding, we get in turning teams over. We might get outrebounded by 10, but we will force 12 more turnovers. That balances. The possessions equal out. So we have to do it our way. What we are working toward is being equal in rebounding and still turning teams over and get the ball more. We have to continue to recruit big guys who can run and small guys who get after it.

The NBA is seeing a trend toward small ball. How much of that is happening in college basketball? With the way the game is going, the ability to get up and down the floor and shoot the ball are two huge assets. You still have to figure out how to get the ball to the rim. If you can't throw it to the block to somebody who can score, then you have to figure out a way to open up the floor and get it to the rim. You can't overemphasize the importance of getting ball in the lane. A highly questionable stat for us last year in losing 25 games is that we shot more free throws than our opponents. That means we were attacking the basket. We didn't make enough of them. I think that will be a difference with this year's team. I think our conversion rate will be much higher.

You practiced at some area churches earlier this year. Where did the idea come from?It was actually something I wanted to do a year ago. It was just an idea I picked up, and Kelli Imig in the marketing department helped give it legs. Each year in recruiting, I tell the families that I will express that their sons will go to church the first semester they are in the program, unless the family has reasons for them not to. That policy has worked out well for us. Each year, kids find they have the potential to attach themselves to a church community. If that happens, great. It gives them some support outside of basketball and outside the campus. With the church tour, we wanted to hit some areas that we may not normally go. Each week, we'd go to a different religious service – Episcopalian, Catholic, Non-denominational. Some churches has gyms. After services, we would have about 60 to 70 minutes of practice, sign autographs, do some clinics. What we got out of it was that our kids got to meet some people in the community and feel some unconditional support from some people with little to no connection to TCU. It also gave us a chance to reach out to the community. The young kids that got to meet our players now have some players and student-athletes to admire. A couple of kids found churches they feel like they can connect to going forward.

How did that experience help in the days after the news of the sexual assault involving some players no longer on the team?It's been a difficult time. The church tour helped us tremendously. I can't express how good it was to see those players get hugged and supported by members of the community. And it needed to happen before we came back to campus. I told the players that they will be looked at differently now after this. I, as the coach, will be looked at differently after this. People are going to think things and say things about us, about Athletics, about TCU, whether it is warranted or not. The church stops were helpful. We needed the warmth and the welcoming displays they showed us. The Church of Christ came out and greeted us all in purple shirts. They didn't have to do that, but it meant so much to us. It was a medicine that we needed.

What's the hardest thing about coaching your son?Now and at the beginning, for me, it's been trying to forget he's my son. I have jokingly said that he's handled it better than I have, but it's true. He's treated me like a coach instead of his dad better than I have treated him as a player rather than a son.

Give me an example. It was Neil's freshman year and I was talking to three young players, of which he was one. I looked at the first kid and said, "You have to do this, this and this." I looked at the second and said, "You have to go here and do this and then do this." And then I looked at Neil and I said, "And you know better!" But he didn't know better. He was a freshman. I hadn't taught him those things. Once I learned that, it's been easier, and I think I've been better.

You sound relieved almost. I'm just glad he chose to do this. I've been more nervous to coach him than anything else in my coaching career. I tried to get him to go other places. Other schools called about him – a lot of the Ivy League schools, some other coaches I know called and inquired about him. But he had been hanging around here when we first got to Fort Worth, and just like me and the rest of my family, he fell in love with the place. That reminds me of what a quality place TCU is and how other kids are going to love it too.

So what's more difficult, praising him or ripping him? Initially praising him.

Why? Because I had unfair expectations of him. I'd tell one player, "Good job." Neil would do the exact same thing, and I wouldn't say anything. It was expected. He was just meeting expectations. That's not fair.

He's a senior this year and your starting point guard. What's your relationship now? He's the vocal leader of the team. He is one of the guys that sets the pace for the rest of the team in terms of attitude. I don't know where we'll be next year without him. He's not on scholarship. I pay his tuition. In men's basketball with 13 scholarships, he's a 14th scholarship-type player.

That's really a luxury for you then. I'm really proud of him because he is really intelligent and wants to be prepared. He wants the team to be prepared. When Corey Santee was here and an established starter at point guard, Neil ran the scout team. He would go in and get tapes of our opponents and break them down. Then he'd replicate that on the court with the scout team running the other teams' offenses. That's why we beat Marquette five times in a row. They run a lot of difficult sets and he learned them and got us ready to play them. We were prepared.

Sounds like he has some coaching blood in him. He probably does, but I hope he doesn't do it. He's too smart, a thinker. Go do something else with your life. [Laughing]

Nile Murry, least season's top scorer, is your son-in-law, marrying your oldest daughter Megan in September. Yes, my TCU connections just keep getting deeper. They shocked me last fall. They both came into my office one day and told me. I said, "OK, here's the deal: I don't care who is engaged to whom. Once basketball season starts, if you're not doing what you're supposed to do, and you're not doing what you're supposed to do, then it's off.

You wouldn't have. I would. But they both were great. They studied hard. They both graduated. They took care of their responsibilities. It's been a great thing. At the wedding, they had this game where Megan and Nile were back to back and Megan had a bouquet and Nile had a power tool, and they had to answer these questions. Well, one of them was, "Who has had the worst Coach D cuss-out session?" They both answered Nile, and they were right. [Smiling]



Comment at tcumagazine@tcu.edu