First Person | Men's Basketball | Baseball | Swimming & Diving | Women's Golf | Brian Estridge

They got skills ...
What's gotten into Adrianne Ross and Ashley Davis? Roommates and
teammates, they do a little give-and-go on basketball milestones, Adrianne's cooking, Ashley's meandering career aspirations and some freestyle rap.

By Rick Waters '95
Both of you are averaging career highs in points and are among the Mountain West's leading scorers this season. What's gotten into you? Ross: I think the reason we're emerging as scorers this year is that Ashley's game and my game are so different, yet they are complementary. I like to take it to the basket, but her man can't give much help because she's a good 3-point shooter. So it opens it up for me. If they do help, I get her the ball and she'll score from outside.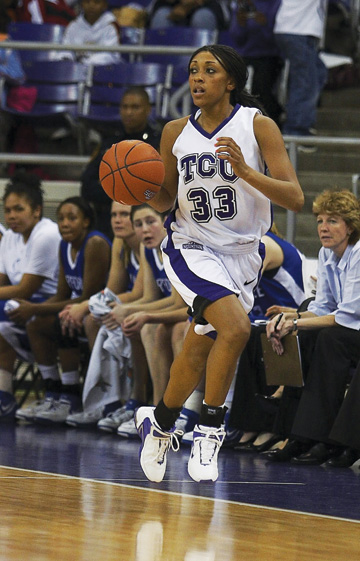 You both also entered the 1,000-point club this year. How meaningful is that milestone? Ross: The fact that there's only nine players who have done that in TCU history, and two of them are still playing and climbing the list, is fun. Davis: It's a great accomplishment for me given my frustrations when I first got here over not playing that much. I sat behind some good players and I never thought I'd be able to accomplish something like this.
Really? Why? Davis: I knew I had the ability, but there's been some really great players and good shooters here the last eight or nine years with the Sutton twins '01, Sandora Irvin '05, Janice Dziuk '90, Coach Porter '03 [formerly Tricia Payne]. For both of us to be associated with them is something to be proud of.
What's your best story about Coach Mittie? Ross: Last year, after we beat Utah at the buzzer at their place, we all went back to the hotel and all 20 of us crammed into one room. We watched the game on film. The game was so tense that Coach Mittie was doing dance moves and karate kicks in the air. We just were laughing and having so much fun. We're going to have to let the media get a hold of that tape. They could have some fun with it. Davis: That was good. I was thinking of when Coach's little daughter, Madison, said he does a good Daffy Duck impression. It was so hard to believe because we see Coach as this serious, hardworking, focused person. So one day at practice, we surprised him and asked him to say something in that voice. And it sounded just like a cartoon voice. It was hilarious to see him in a laid-back mood. Ross: Then he followed it up with "All right, 'Frogs' on three," and we huddled up and got focused real quick.
You two are roommates. Give me your best roommate stories. Ross: It would have to be about my cooking. I'm the worst. Anytime Ashley sees me in the kitchen, she goes into her room. Davis: Or makes sure the smoke detector is working. [Both laugh.]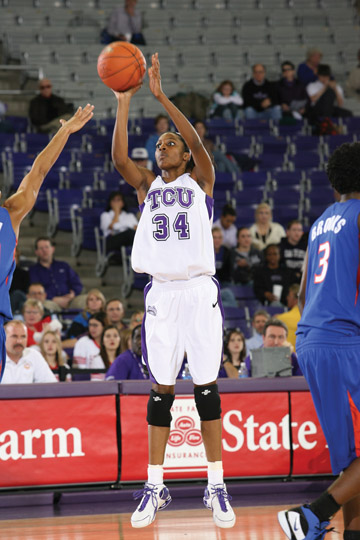 What's Adrianne's best dish? Ross: Ramen noodles.

Wait a minute, do you always talk first? Ross: [Laughing] I know. I talk too much. I need to talk for a living.

So, Ashley, Ramen noodles? Davis: Yep, that's safe. It's easy. She can boil water.

What do you want to do after you graduate? Ross: I want to play professionally. After that, I'd like to do sideline reporting, broadcasting. Davis: Play overseas if possible. I also really want to get into coaching at the college level. I'd also consider being a sports information director or in college administration.

That's three different things. Davis: Yeah, I'm keeping my options open.

Ashley, you also have done some substituting. Davis: Yes, while I am working on my master's in education administration. It's a lot of fun. I had a mindset that I would be a principal. But after being involved in the school system and seeing what all they deal with on a daily basis, I don't know that it's for me anymore.

Has the fact that you grew up in a military family toughened you to this kind of challenge? There's a lot of that in there. That's the way I have been raised. You don't let obstacles stop you. You just figure out a way to get it done. Some of it is my own personality. I love to compete. No matter what it is, I like to get after something every chance I get. The more that I hear the path of the TCU basketball program is a dead end, the more I become hellbent to get it done. And it's gonna get done. Every day I wake up and I am thinking of some way to make things better for our program and the kids in it. And if in the process I get to stick it to those who doubt, then that would make it that much sweeter. That's not what drives me, but I'd be lying if I said that that wasn't a part of it.

That's a fourth thing. Davis: I love being around kids, so I am keeping it as an option too.

What kind of substitute teacher are you? Davis: I'm pretty easy. I just follow the teacher's rules and lesson plan. I make sure they are doing their work. They can talk as long as they're quiet. Usually when I walk into a classroom, they know they're in for an easy day.

OK, Adrianne, sideline reporting. You've already gotten some work at Amon Carter Stadium during football season. Ross: Yes, and I had a blast. I was unsure at first but I knew I wanted to do broadcasting and sports. So when Versus was here, I shadowed their sideline reporter Argy Stathopulos. Afteward, I knew this is what I want to do. People always tell me, "If you can get paid for talking, that's what you should do. You could make a lot of money."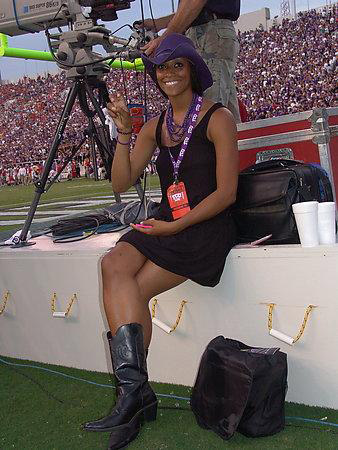 What did you learn? Ross: Argy was great. She was very upfront about how she got started. She told me that I had good potential and I was kind of blushing. I can't wait to have the opportunity to do it again. This summer I am looking at doing an internship with the mtn. network in Denver.
Ashley, did you see this performance? How did she do? Ross: I was waving at them. Davis: The whole team was watching her on the field with her badges and credentials. We know that's what she really wants, so we're very excited for her. She did good. It was a great opportunity for her.
Is there a sideline reporter that you like? Ross: I really watch games now looking for that. I can't wait for the game to get to halftime so I can see the interviews. I like Stacey Dales on ESPN. She is an athlete and a fiery competitor but you watch her on TV and she's so girly and pretty. That's how I want to be.
OK, Ms. Sideline Reporter, what's something about Ashley that few people know? Ross: She eats a lot. When I first got to TCU I was shocked. You look at her and she's thin, but she's cleaning her plate and then asking if she can have the food on your plate.
Ashley, turn the tables on her. Give me some dirt on Adrianne. Davis: I can't think of anything.
Alright, Adrianne, word is that you do some freestyle rappin' in your spare time. Can you bust something out for the magazine? Davis: That's what I was going to say! Ross: [Laughing] I do it more to laught and be a joker. Everybody knows that's how I am. They're really just corny, nothing people are going to come Star Search for. It's like:

It is me. It is A.
It is basketball we got to play.
We got skills to pay the bills.
So don't be comin' 'round our way.



Comment at tcumagazine@tcu.edu