First Person | Men's Basketball | Baseball | Swimming & Diving | Women's Golf | Brian Estridge

Good for TCU and Grandma
By Brian Estridge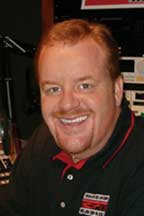 "Several millions bucks? No thanks, I think I'll stay at TCU."
This isn't a quote from Horned Frogs head football coach Gary Patterson to some polar ice cap Big Ten school that deploys the Caddyshack gopher as its mascot. This simple, yet powerful sentence came from No. 97, defensive end Tommy Blake. The rising senior from Aransas Pass honored the wishes of his grandmother — and TCU fans everywhere -- by coming back to Stadium Drive for one more season.
Tommy certainly did his homework.
Blake was projected to be drafted in the middle of the first round, but finishing what he started here at TCU proved more important. So he said, "No," to a big payday and, "Yes," to the Horned Frogs, who return nine of 11 starters on defense. You can almost hear Colt McCoy's heart pounding down in Austin.
Tommy knew the way he was leaning before taking the question to his family. The importance of education runs deep in the Blake household. Both his brother and sister went to college and his grandmother wasn't about to be let down by the baby of the family, not because of football anyway.
After listening to all of the info, she quietly told him, "Finish your degree first."
The emotions of that moment still fresh in Tommy's mind cause him to pause. Family means everything to him -- both his blood and his football family.
"It shows how far we have come as a program and a university when a player as special as Tommy Blake tells the NFL you can wait," Patterson told me. "(Tommy is) enjoying his time at TCU too much right now."
Good for him. Good for TCU. And good for Grandma.
Brian Estridge is the play-by-play voice of the Horned Frogs. Write to Brian at b.estridge@tcu.edu.