First Person | Men's Basketball | Baseball | Swimming & Diving | Women's Golf | Brian Estridge

Swing thoughts
Catherine Matranga rides a basic approach to mid-season honors.
By Rick Waters '95
"Just keep it simple." Senior golfer Catherine Matranga says she won't think about anything but that motto the rest of the season.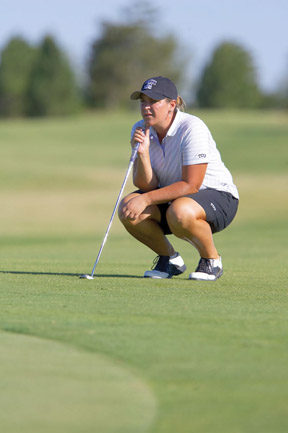 And why would she?
Last fall, Matranga took up Coach Angie Larkin's one-shot-at-a-time advice, worked on a smoother, more relaxed swing and rethought her mental approach.
The result was a Mountain West-leading 72.4 stroke average, also good for 31st in the country.
She won the Branch Law Firm/Dick McGuire Invitational in September with a 5-under-par 214 and placed second at the Jeannine McHaney Intercollegiate with another 5-under effort. In all, the Fort Worth native had three top 10 finishes in TCU's five fall outings.
"There was nothing mechanically wrong with my swing," Matranga says. "I just finally realized that if I am not making it hard on myself on the course, I can play pretty well. If I hit one bad shot, I don't need to get down on myself and make another."
In other words, when she's not stressing over her swing, she just plays. And plays well.
Her hot streak caught the attention of Golf World magazine, which selected her to its Mid-Season All-America Team and named her the nation's Most Improved Player.
"She got better in several areas: ball striking, putting, her sand game," says Coach Larkin. "When you're as talented as she is, sometimes it's a matter of learning how to win. She has all the tools, but it's a matter of breaking through."
That's easy to talk about, Larkin says, but hard to do. It's even harder to maintain.
Matranga found that out the hard way when the team returned to action in the spring and she finished a disappointing 22nd at the Central District Invitational in late February.
But she bounced back the following week in Puerto Rico, staying in the hunt until the final round.
"We had a good fall, but we have four seniors on this team and this is our last chance to make it to the NCAA Championships," Matranga says. "We're capable of making it."
Just one swing at a time.
Comment at tcumagazine@tcu.edu.