First Person | Men's Basketball | Baseball | Swimming & Diving | Women's Golf | Brian Estridge

Making a splash
A pair of young Canadians gives TCU Diving a promising future.
By Rick Waters '95
For the record, R.J. Hesselberg's initials stand for Raymond James, but they might as well be for "Resident Joker."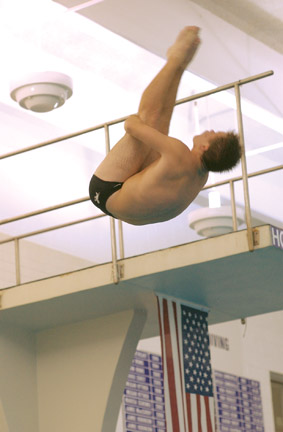 The 5-foot-3 "class clown," as Diving Coach Wayne Chester calls him, has been known to entertain his swimming and diving mates with a series of flips and wacky dives after practice.
"I'm saving some belly flops for after the season is over," he says.
Soft-spoken, quietly intense, almost shy, fellow diver Jennifer Ferguson is quite the opposite. As team captain, she occasionally coaches the team at Chester's request and takes the job seriously.
"They'll listen to her when they won't listen to me," he jokes.
Despite their differences, Hesselberg and Ferguson are close friends and have much in common: They're both Canadians (Saskatoon, Saskatchewan, for him, Beaconfield, Quebec, for her) and both young (R.J.'s a sophomore; Jen's a freshman).
"And they both are some of the most talented divers TCU's ever had," Chester boasts. "They may break all the TCU diving records by the time they graduate."
They're already off to a strong start. Together, they've garnered the Mountain West Diver of the Week honors seven times this season and have posted scores that are inching up the ranks of the TCU record books.
In December, Hesselberg posted the second-best 3-meter score in school history with a 337.10. The mark earned him conference kudos for the third time this year.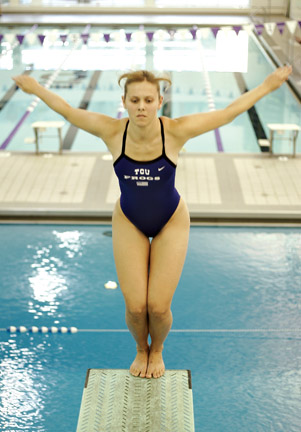 "R.J. is extremely strong," Chester says. "And he knows where he is in the air, so he gets good tumbling action."
Ferguson began her Frog career undefeated at 12-0 and tied a Mountain West record by earning top diver honors four consecutive times. Scores of 298.27 in the the 1-meter and 331.13 in the 3-meter are second-highest in school history.
"Jen is incredibly consistent," Chester says. "Most divers blow a dive in a meet once in a while, but not her."
Ferguson suffered a setback in late November at the UT Invitational where she injured her foot during an inward 21⁄2 dive. It's been a frustratingly slow return to form, but Chester is confident she'll be chasing records again next season.
Not that that is her goal.
"I'm not diving to beat a record. I'm diving to beat my personal best," says Ferguson. "I just want to improve every year I'm here."
More important, they'll work at it together, Chester says.
"They share a common bond," he says. "The whole team is like a family, but they're really like brother and sister. They're invested in one another."
And already beginning to see dividends.

Comment at tcumagazine@tcu.edu.