First Person | Men's Basketball | Baseball | Swimming & Diving | Women's Golf | Brian Estridge

Omaha on their minds
Deep pitching, experienced lineup could equal Frogs' longest playoff run yet.
By Rick Waters '95
It's raining in late January and Coach Jim Schlossnagle has his team thinking about the College World Series without even speaking a word.
It's written on their back of their practice uniform: OMAHA.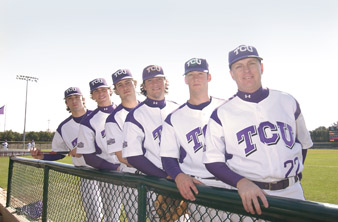 "That's the first time we've ever done something like that here," Schlossnagle admits. "But it's a tangible reminder every day of what our goal is. The bar is set high. We all know it."
Schlossnagle has been pounding the idea of reaching college baseball's holy land into his players' brains since he took over the program in 2004. This year, though, the Frogs realistically could make the trip, and everyone knows it.
TCU has climbed to new heights under Schlossnagle, winning two conference championships and reaching the NCAA Regionals three consecutive seasons but advancing no further.
With six seniors and 17 juniors, that might change this season. The team has already set a new mark in garnering a preseason No. 15 ranking in Collegiate Baseball, highest ever in program history, and early returns show the Frogs living up to the billing. The Frogs sprinted to a 6-1 start, their best since the 1994 campaign when they opened 9-0.
Schlossnagle also believes this is the best pitching staff he's ever coached. Top starter Jake Arrieta is a preseason All-American and projected first-round draft pick in June. Transfers Chance Corgan (Texas A&M), Seth Garrison (Navarro Junior College/Arizona State) and Chris Johnson (John A. Logan Junior College) fill out an experienced rotation. In the bullpen, new full-time closer Sam Demel also projects to a high draft pick, along with another transfer, Cody Dunbar (John A. Logan Junior College), who has been impressive in middle-inning relief.
The lineup is loaded with familiar standouts, six of whom batted .300 or better last spring. Many were a part of Schlossnagle's first recruiting class in 2005, rated as high as No. 3 nationally.
"This is the year we've been talking about since we got here as freshmen," says catcher and team captain Andrew Walker, who was the first of the 2005 class to sign with the Frogs. "Our expectation is to be one of the top eight teams at the end of the year."
With nearly 30 players on the roster with Regionals experience, reaching the Super Regionals and beyond has never seemed more within their grasp.
"A lot of guys came here to be a part of the first TCU team to reach Omaha," says Demel, another from the 2005 class. "We want to start a tradition. We want that to be our legacy."
Comment at tcumagazine@tcu.edu.