First Person | Men's Basketball | Baseball | Swimming & Diving | Women's Golf | Brian Estridge

This Frog has serious hops
Raw, but exciting newcomer Alvardo Parker becomes a factor in the paint.
By Rick Waters '95
Once part of The Bahamas, the Turks and Caicos Islands in the Caribbean are a British Colony known for fishing, diving and superb Club Med offerings.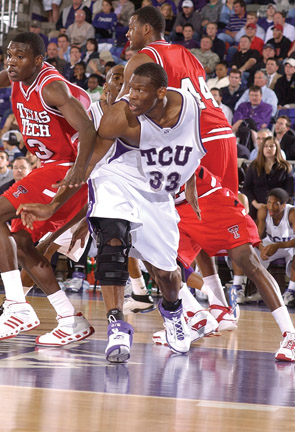 College basketball players are not a major export. Not even a minor one.
In fact, the equivalent of high school basketball there consists of a single mid-winter tournament for a dozen or so teams, all of which start practicing two weeks before play begins. There is no season. No full-time coaches. No fundamentals. No X's and O's.
"It's mostly pick-up games," says island native Alvardo Parker, who joined the Frogs this year after two seasons at Frank Phillips Junior College in Borger, Texas. "Soccer is the huge sport there. Lucky for me, my older brother played basketball. So I did too, starting when I was 13."
But by head coach Neil Dougherty's math, Parker hasn't really been playing the game that long.
"Essentially, he's in the middle of his third year of organized basketball," the coach says. "Most of the terminology we use -- the basic concepts of the game -- were new to him. Things like how to deny one pass away, how to post up, how to defend the post, how to defend cutters in the lane. We had to teach him how to do those things. Given all that, what he's accomplished here this season is almost shocking."
The 6-foot-8 Parker led the Frogs this season in field goal percentage, rebounds and blocked shots and was third on the team in scoring. After beginning the season on the bench, he started 21 of 29 games and developed an on-court chemistry with fellow big man Kevin Langford, whose fundamental, below-the-rim style was a contrast to Parker's raw athleticism.
"Sometimes opposites work well together," Langford says. "He's got good instincts for the game and we make an effort to look for each other. He's a better passer than people expect and has good hands."
But it's Parker's leaping ability that stands out. He jumped center for the Frogs and won every tip but two, even against some of the Mountain West's 7-footers. His blocked shot tally, approaching 60 at season's end, was close to surpassing last season's team total.
"AP is a quick jumper, as quick as I have seen," Dougherty says. "That's different from guys who can jump high, which he can do also. He's able to let his man go up in the air, then jump, catch up to him and block the shot. Same with rebounds. He's got great timing, and that's natural talent."
Wait until next season and he'll be even better, says assistant coach Chris Crutchfield, who discovered Parker while on the New Mexico State staff. Parker will have had an off-season to work on his post moves and receive better treatment for a nagging knee injury from his junior college days.
"It makes us wish we had him all four years," he says. "If we had him as a freshman and could develop his fundamentals, there is no telling what he could do. Scoring, rebounding, shot blocking. He would do it all. He'd be a major force."
Comment at tcumagazine@tcu.edu.